EMDE MouldTec supplied a hot runner mold, left, for yellow LSR potholders molded by Sigma Engineering GmbH in Silopren LSR 2630 from Momentive Performance Materials.
Düsseldorf, Germany — K 2019 was a showplace for liquid silicone rubber, with companies highlighting new machinery, materials, tooling, molding and simulation technologies.
As a world premiere, Schwertberg, Austria-based injection molding machinery producer Engel Austria GmbH ran an entirely license-free process applying an LSR gasket to both sides of a 65 percent zirconium/16 percent copper content metallic glass alloy frame.
First, a 120-metric-ton Engel Victory AMM amorphous metal molding machine molded 100 grams shot weight of Amloy Vitreloy 105 Zr/Cu/Ni/Ti/Al alloy from Hanau, Germany-based Heraeus Holding GmbH. The demonstration used a mold from Singapore-based Flex Ltd. with a cycle time of 70 seconds. Such net shape metal parts do not need manual or CNC machining, unlike metal injection molding, according to Heraeus.
The second machine, a 45-tonne vertical Engel Insert 60V/45 Rotary XS containing an RD 900-millimeter-diameter two-station rotary table, overmolded 1.425 grams of LSR 3070/50 from Burghausen, Germany-based Wacker Chemie AG as a gasket onto the metal frame with 35 seconds cycle time. The demonstration used a tool from Marchtrenk, Austria-based LSR molder Starlim Sterner Spritzguss GmbH. The highly fluid uncured LSR reached the underside through small apertures in the frame.
An Engel Viper 12 linear robot worked with the automatic metal ingot feeding system and an Engel Easix KR10 R1420 articulated arm robot inserted the metal frame in the Starlim mold and removed the finished LSR/metal part.
Engel said the AMM/LSR process opens new opportunities for "almost indestructible housings with better dust, water and radio wave protection." Potential applications include portable electronic devices, minimally invasive surgical instruments, suspension systems and wear-resistant drive-train components.
As part of Engel's Inject 4.0 interpretation of Industry 4.0 principles, iQ Flow Control and iQ Vibration Control Smart Machine solutions monitored the LSR process, supplemented by e-connect and e-connect 24 Smart Service support.
Rankweil, Austria-based subsidiary Technische Informationssysteme GmbH (TIG) provided Smart Production manufacturing execution system and enterprise resource planning support with TIG authentig intelligent networking, TIG 2go smart dashboard and TIG big machine data bank software solutions. TIG became an Engel subsidiary in 2016 and has networked more than 10,000 injection molding machines worldwide.
Fuel cell separator foil with gasket molded on by REP.
Flashless molding demo
Lyon-Corbas, France-based rubber machinery producer REP International SAS focused on waste-free flashless molding with a 160-tonne G10 V410 Extended injection molding machine.
The demonstration applied 0.5-mm-thick LSR gaskets with 3.1 cubic centimeters (3.5 grams) in Wacker Chemie Elastosil LR 3003/50 to 0.1-mm-thin steel foils to form fuel cell separators.
A TOP 5000 P unit from Oftering, Austria-based Elmet Elastomere Produktions- und Dienstleistungs GmbH mixed and dosed the LSR.
Lafeuillade-en-Vézie, France-based automated systems designer MécaTheil Robotique SARL supplied automation, which included a Stäubli articulated arm robot transferring metal foils from one station to others and finished foils. Equipment from Ebhausen, Germany-based Diener electronic GmbH + Co. KG applied plasma treatment to improve steel/LSR adhesion.
Verneuil-sur-Vienne, France-based mold maker Euclide Industrie Coremo sarl made the mold, with a cold runner block valve gate system from Stockelsdorf, Germany-based WEAsystec GmbH.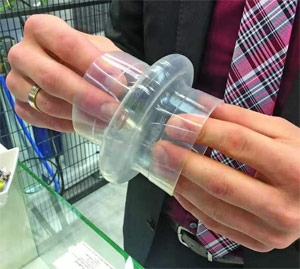 EMDE MouldTec produces flexible transparent LSR pipe joints.
Cookie forms, butterflies and more
Nassau, Germany-based EMDE MouldTec GmbH molded LSR cookie forms on a horizontal Engel injection molding machine. Activity in bulk handling equipment for international bulk containers was also on display, including flexible transparent LSR joints produced for material handling pipes.
Neuwied, Germany-based injection press maker Dr. Boy GmbH & Co. KG molded transparent teats at K 2019 in an EMDE MouldTec mold. The cooled conveyor belt came from Bergneustadt, Germany-based MTF Technik Hardy Schürfeld GmbH & Co. KG.
EMDE MouldTec supplied a hot runner mold for yellow LSR potholders molded by Aachen, Germany-based Sigma Engineering GmbH in Silopren LSR 2630 from Leverkusen-based Momentive Performance Materials. The demonstration used a SmartPower 90/350 injection press from Kottingbrunn, Austria-based Wittmann Bat